The Cardinal Freeman Village is a retirement village focused on lifestyle choice. The Project involved the redevelopment of the Village including the construction of 97 new Independent Living Units, including underground carparking, construction of a generous open landscaped space, construction of new community facilities, and preservation of historic buildings at the Village.
Division
New Build
Client
Stockland
Location
Ashfield, NSW
Value
$54 million
Architect
Allen Jack + Cottier
Status
Completed March 2017
The Cardinal Freeman Village Redevelopment comprised Two Stages:
STAGE ONE
Stage 1 involved the removal of existing residential quarters and cafe to allow the provision of a temporary resident and staff car park, construction of buildings 2 and 3 to provide "aging in place" style accommodation. Buildings 2 and 3 share a split level basement and feature 56 independent living apartments and external landscaped areas.
In addition, the project redevelopment included the remodelling and upgrade of the Chapel undercroft space, and the construction of the now operational cafe and provedore. The cafe now connects to the completed Village Green for the use by village residents, visitors and staff.
Key features of the Project included The Chapel facade, which was the focal point of the development, and was extensively repaired and painted to its original intended colour scheme. Two large tracery windows were re-secured, many of the stain glass windows removed and refurbished and three new stone roof crosses carved and reinstalled.
The existing heritage stone gate located off Victoria Street was disassembled and reconstructed to allow larger vehicles to pass through. The now stored material will be reinstated in Stage 3 Heritage Garden.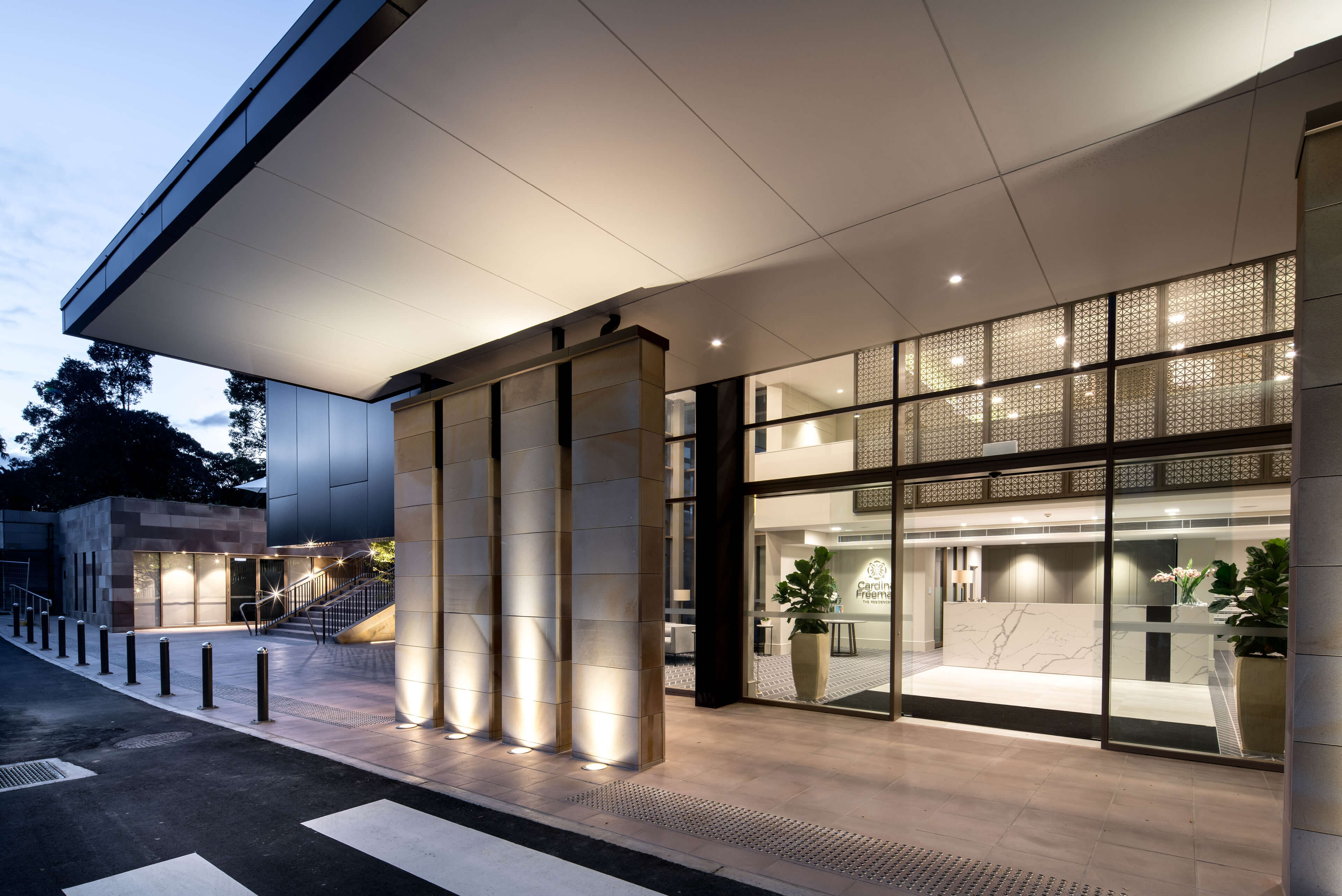 STAGE TWO
Stage 2 involved further demolition of existing residential quarters and the existing aged care facility (which has been replaced).
The construction of a further 40 independent living apartments was completed.
Building 4 – The village green precinct and clubhouse which contains a new internal pool, gymnasium, theatre room, dance floor, Lounge, bar area and Billiard room. The central road through the Village was re built including new in ground services.