The Sydney Opera House is recognised as a significant cultural landmark across the globe, hosting some of Australia's best performances in theatre, dance and music. In order to maintain its world leading status and provide exceptional acoustic performance spaces, an upgrade was required to ensure the best possible experience for decades to come. The Concert Hall Renewal project provided significant upgrades to three specific areas; the Creative Learning Centre, Entry Foyer, and Concert Hall.
This once-in-a-generation renewal combines respect for the Opera House's world heritage listing with cutting-edge staging and theatre systems, improved acoustics for artists and audiences and enhanced access for people with mobility needs. One of the key goals of the upgrade was to improve the hall's acoustics by modernising the technical equipment and installing state-of-the-art lighting, sound, and video systems.
Division
Refurbishment & Live Environments
Client
Sydney Opera House Trust
Location
Sydney, NSW
Status
Completed August 2022

Concert Hall
Key Features
– An automated system that can be easily raised and lowered, enhancing visibility for audiences.
– Tiered platforms needed by orchestras with capacity to extend or retract into the auditorium, making room for more rows of seating.
– Dedicated rooms and a walkway, the central catwalk, installed above the ceiling which safely houses the new machinery and provides greater access for maintenance and operations.
– Installation of 174 tonnes of new structural steel (equal to more than 100 cars), placement of 720 tonnes of new reinforced concrete, and installation of 300 kilometres of cable. This included 44 tonnes of hot pink steel to mark the difference between primary and secondary steel.
– Service upgrades and matching finishes on new concrete and timber to blend in with the original materials in a considered and appropriate way.
All Concert Hall images by Daniel Boud
Entry Foyer and Access
Upgrading Accessibility
A new lift installed in the venue's Northern Foyer, new stairs, and ramps were built as part of the project's significant accessibility upgrades. This will make it possible for people with limited mobility, and with a wheelchair, to independently access each level of the Concert Hall Northern Foyers for the first time.
The Entry Foyer now provides an accessible path of travel to the Concert Hall foyers by transforming an existing Back of House corridor into a Front of House space and completing the refurbishment of the existing Lift 1.
Entry Foyer images by Anna Kucera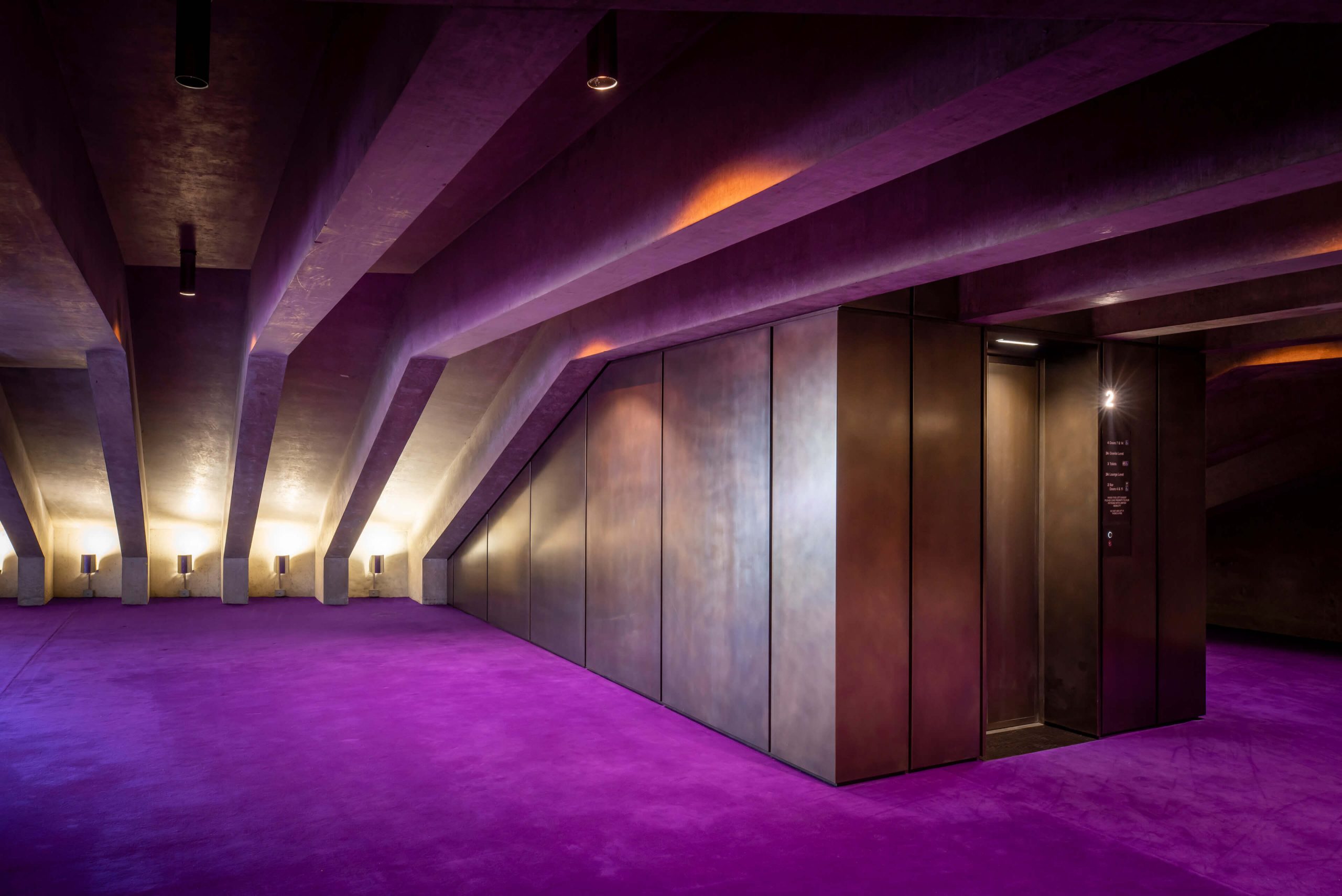 Creative Learning Centre
Creativity is at the heart of the Sydney Opera House and this portion of works included the transformation of office space in the building's north-west corner into a dedicated space for people of all ages to learn in a building that embodies creativity and innovation. The flexible space comprises of a larger room which can host groups of 50-60 for workshops and 80-100 people for seated experiences, with a second room designed for small group work.
Taylor's New Build General Manager, Tim Christie, describes the importance of the project to Taylor
"
Our team has been incredibly inspired and moved to have played a part in the history of the Sydney Opera House. This once in a lifetime project has allowed us to contribute to the restoration of one of the world's most celebrated cultural icons."