Taylor has partnered with aged care provider, Estia Health, to break ground on its new residential aged care home. Located at 1 Yarrabung Road, St Ives, the project will transform six local residential blocks into a 118 resident place aged care development.
A traditional Welcome to Country and smoking ceremony was led by Metropolitan Local Aboriginal Land Council Representative, Brendan Kerin, to mark the start of construction. The cultural tradition of a smoking ceremony is undertaken to cleanse an area, protect a build site, and show our respect to Elders past, present, and emerging.
The $32 million development will create a place for the community's residents to call home, allowing much needed stability and security for the ageing population in Sydney.
The aged care home, which will replicate a townhouse appearance to fit in with local surrounds, will house a series of care wings. The care wings will include dedicated spaces such as a commercial kitchen, dining, lounge, cafe, gymnasium, associated service rooms, nurse stations, terraces, storage spaces, activities areas and single basement carpark accommodating 43 spaces.
The development will also offer residents luxury amenities include a hairdressing salon, day spa and nail bar.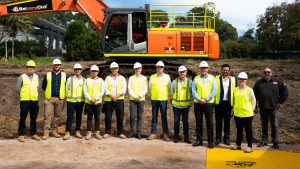 Chief Operating Officer and Deputy CEO, Sean Bilton of Estia Health, said, "We are excited to mark the construction of our new home, which will provide much needed aged care services to the local community – this will be our fourth home in northern Sydney but our first in this region, adding to our homes we already operate at Manly Vale, Willoughby and Epping."
The home is scheduled to complete in late 2023 and, once fully occupied, will employ over 120 people in a variety of care and hospitality roles.
The home will include a hairdressing salon, beauty therapy room and allied health service rooms, with visiting medical professionals to provide specialist services including physiotherapy and rehabilitation. This will be delivered alongside Estia Health's core clinical care services, led by Registered Nurses on-site 24 hours a day, seven days a week.
George Bardas, Chief Executive Officer of Taylor, said, "Taylor is proud to undertake the design and construction of this new, much needed, aged care home for Estia Health.
"Providing more housing for elderly people in our society is a deeply important endeavour, so our team at Taylor is delighted to help Estia Health deliver this new multi-level residential aged care home. We congratulate the team at Estia Health for this important contribution to the St Ives community.
"It is important to Taylor and Estia Health that the design of the St Ives development connects with the local character and provides a peaceful, positive space for its residents, fostering a genuine sense of community and a welcoming environment. We hope it will be a wonderful place to live for the new residents."
Once complete, the development will offer varying levels of care to support residents across their diverse stages of life and needs, including a specific wing for dementia care.
The new development is the latest of a range of recent aged care projects Taylor has undertaken, including Anglicare's Gowrie Village, on Sydney's North Shore.
Sean Bilton, Chief Operating Officer; Damian Hiser, Chief Customer Officer; Dane Nolan, Development Manager; and Jodie Gacitua, Head of Marketing Communications from Estia Health were joined by Taylor's General Manager Construction – General Build, Tim Christie; Adam Towner, Head of New Business & Strategy; Adam Delpopolo, Project Manager; Glenn Harris, Senior Site Manager, and the Taylor project team.